Namaste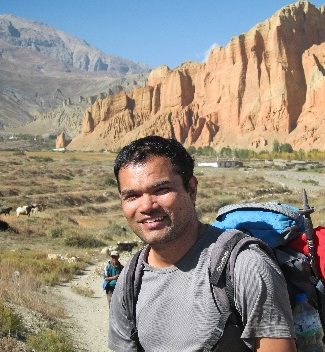 Being from a undeveloped village of the Everest region(Khotang),for last 20 years I have gained many experiences of well organized of the trekking and tours in Nepal,and worked together with different trekkers around the world in different trekking trails of Nepal.
Shibalal Giri
We have a good team consisting Nepalese guides,all of them are graduates from the university and talk at least 1 or 2 foreign languages,you will discover with them the most beautiful landscapes of Nepal and the Buddhist and Hindu cultures that pervades the people of the Himalayas and its authenticity.We want to well inform you our culture and hope that your visit to Nepal means a moment of give and exchange of the information with each other.
Alliance Himalaya is an agency that aims to allow his team to live decently from their work through proper reward.Moreover Alliance Himalaya pays 2% of its profit to support Nepalese NGO : Helping Friends Nepal which aims to support financially for the education of the children belong to poor porters family in the mountain and hilly region.
We do not practice competition and pricing games neither we want to make a good profit in one time.Our prices are calculated accurately that enables us to provide a quality service.We also hope to follow our ethic and so we will be proud to welcome you to Nepal.
We will advise you the best for your trip to Nepal that leaves you the best memories.There are many possible dates for your tour/trek which will be according to your travel time and date,your expectations,your sporting level and duration of your stay.We also have groups departures in different dates(maximum 10 peoples).Tell/write us if wish to join .
Au Népal
Alliance Himalaya Treks,
Kapan-11 Budhanilkantha,Kathmandu
Shibalal Giri Tel 00977 9841 23 25 51
E- Mail : contact@alliancehimalaya.com
girishibalal@hotmail.com
en France notre contact
Mr. Bernard Davy – Tel 06 33 09 40 92
E-mail: davybe@orange.fr
Or you can fill out the following form: