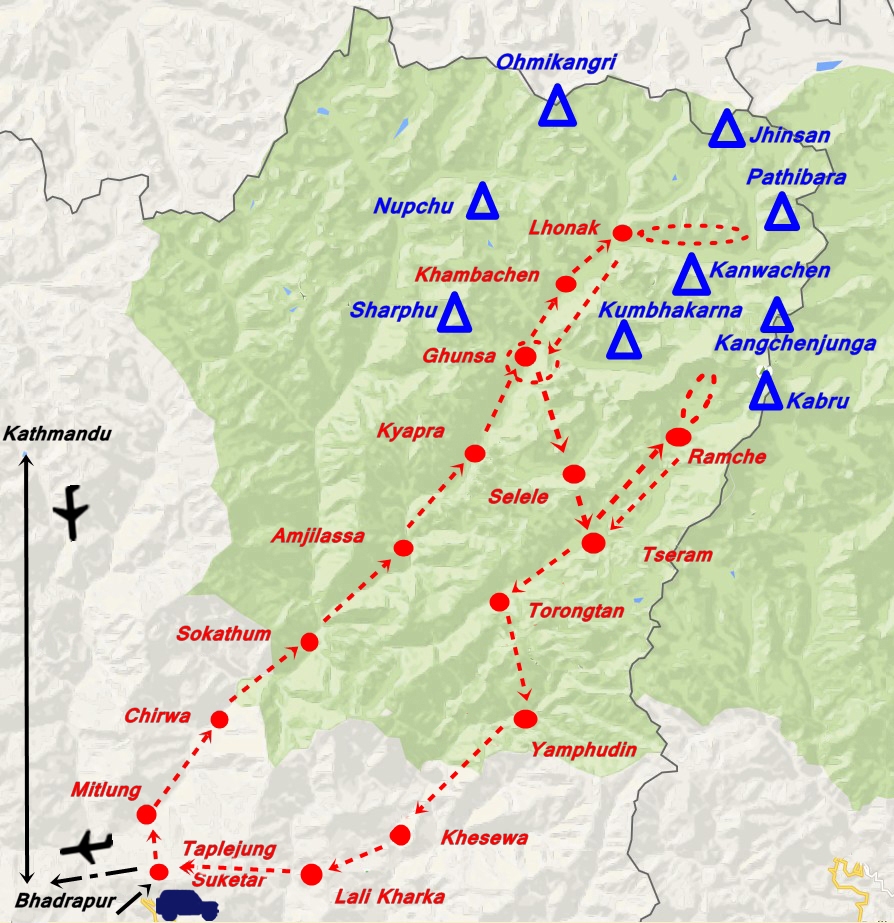 In the extreme North–East of Nepal,near the border with Sikkim,(India),draws up the third highest summit of the world known as Kanchenjunga.This beautiful but difficult area remained wild until today.
Kanchenjunga with an altitude of 8586m which is surrounded by many others mountains more than 7000m.It is possible to see the splendid sights of the whole range of Kanchenjunga,Makalu and many other mountains during this trek.This trek can be done without technical difficulty offers a great geographical and cultural diversity.Trek starts from the lowland of eastern Terai and also passed through the tea garden of Ilam,terraces field, many beautiful untouched villages in the mountain and finally reached at the altitude of 5150m. above sea level to the north base camp of Kanchenjunga.
Maximum altitude: 5150 m Pangpema
Duration: 25 days
Possible extensions: Chitwan national park -Kathmandu Valley …
Best season : – March — April ——- October — November –
Itinerary by days
Day1: Reception at airport of Kathmandu by the agency and transfer to your hotel.
Day2: Discovered few historic sites of Kathmandu   – Hotel.
Day3: Transfer to the domestic airport for a flight until Biratnagar then 5 hours of Geep to get Ilam,tea capital city of Nepal,Ilam-Tea house.
Day4:Continue 5 hours drive to reach Taplejung, then the trek begins from here.3hours walk until we arrive at a small village of Mitlong- Lodge.
Day5: We cross the villages Sinwa, Tawa and Porkeet then the smooth descent takes us to the suspended bridge above Thiwa Khola,then walking uphill and we finally arrive at the village of Chirwa (1270m) where the main part of the houses are built with bamboo-Chirwa-Lodge.
Day6: We follow the bank of Tamur river then, after having climbed a "rocky outcrop" we go down towards the river Ghunsa Khola which takes its source at the bottom of Kanchenjunga. We go up towards a peak in order to join the Tibetan village of Sekathum. In clear weather it is possible to see the splendid top of Jannu(7710m)-Sekathum-Lodge.
Day7: Long day of walk… almost easy flat walk to Amjilassa – Lodge.
Day8: Our trek lead us to the dense forest of pines and rhododendrons.The view of Kanchenjunga comes near to us.We have to passe through a large waterfall and then a stiff rise bring us to the village of Kyapra- Lodge.
Day9:After having breakfast we will continue our trek to Ghunsa which consist of easy walk at first then climed up on a hill and again down at the bottom to the river,then it takes us to the Tibetan village of Ghunsa.This village is typical with all its wooden houses and many colorful Buddhists pray flags – Ghunsa – Lodge.
Day10: Day of acclimatization and exploration of Ghunsa – Lodge.
Day11: We walk around 2 hours along the river and passe through the splendid forest of larches.After crossing the river, the trail goes up towards the "Tibetan village"of Kambachen where only inhabited part of the year.Spectacular view of Jannu Himal awaits us – Kambachen – Lodge.
Day12: Walk in the easy path then we enter in the middle of the mountains while crossing the moraine of glacier of Kanchanjunga ,the trail is marked out by cairns set up by the stockbreeders of yaks of the area.We arrive at the camping of mountain pasture of Ramtang then we continue until Lhonak,very beautiful pasture at the edge of an enormous glacier,and wonderful views of 6000-7000 m snow-caped mountains-Lhonak-Lodge.
Day13: We walk on an easy path, in the mountain pastures out of Right Bank of the enormous glacier of Kangchenjunga. Vis-a-vis us,with the pyramids of Kirant peak,Nepal peak and Twins,which forms a barrier with more than 7000 m with Sikkim. We reach Pang Pema. From there, sight on the imposing mass of the third highest summit of the world(8596 m)welcomed us. Picnic at the bottom of the majestic northern face. Most courageous will be able to gain a little altitude on the slopes above of Pangpema, to profit a little more this crystalline environment. – Pang pema Lhonakh – Lodge.
Day14: Return to Ghunsa – Lodge.
Day15: We walk toward Selele(3400m)and another pass of Tamo La (3940 m), on the steep path through a dense forest finally we arrived at the village of Selele – Lodge.
Day16: Trek to Mirgin-la(4665m) the panoramic sight of high summits,Magnificent views of the Himalayas from the pass.We cross then two other passes (4660m and 4725m)then a long decent of almost 1000 m leads us to Tseram-Lodge.
Day17: We then continue to Yalung Bara,beginning of the valley of the Yalung glacier,which we keep continue until Ramche.Vis-a-vis us,with the mountain of 6000 m to 7000 m,Koktang(6147m,Ratong(6679m) and range of Karbu-Ramche -Lodge.
Day18: We continue our walk along the glacier to reach Oktang to have a superb view on Kanchenjunga (8586m, 3rd top of planet).finally return back to Ramche, then Tseram – Lodge.
Day19: We go to Torongtan – Lodge.
Day20:  Then let us continue towards Yamphudim – Lodge.
Day21: Uphill rise and descents with superb view points of terrace field takes us to- Khesewa – Lodge
Day22: Keshewa – Lali Kharka -Suketar- Lodge.
Day23: Suketar -Badrapur by jeep,Bhadrapur- Hotel.
Day 24 : flight to Kathmandu.
Day 25:Free day, visit of Kathmandu – Hotel.
Day 26 :Free morning in Kathmandu and transfer to the airport.