Balcony of Annapurna trek Gurung Hill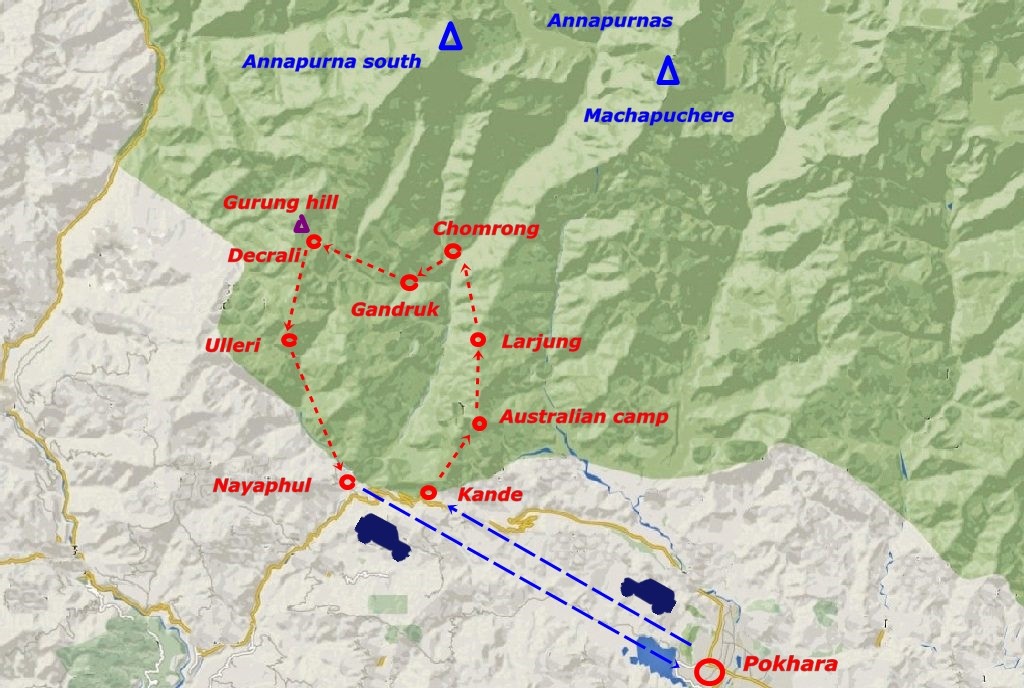 The Original version of the classic Balcony of Annapurna trek from where we enjoy a lot a magnificent panoramic view of the Annapurna range, Machhapuchere, Dhaulagiri and many others mountains from the view point of Gurung Hill. The trekking route passes through the several gurung's villages,rhododendron,Bamboo and pine forests,rice terraces fields .One of the best moments of this trek will be bathing in the hot spring of Jhinu Danda.
Duration: 13 days
Maximum altitude : 3200 m Gurung Hill
Possible extensions: Chitwan national park – the Newar towns of Bandipur –  … Kathmandu valley
Best Season : – January – February – March – April – May —- September – October – November – December –
Itinéraire par jours
Day 1: Welcome to Kathmandu airport by the agency and transfer to your hotel.
Day 2: Exploration of some historical place, Swayambudnath, Dubar Square, Pashupatinath, Boudhanath … – Hotel.
Day 3: Departure for Pokhara by tourist bus early in the morning,or flight to pokhara in afternoon – Hotel.
Day 4: Hiking to Sanragkot or Peace Pagoda – Hotel.
Day 5: Transfer by a car to Kande(1700m) and we begin our trek with an easy walk to Australian Camp,splendid view of the most beautiful peaks of the Annapurna range,Pothana 1900m,3h – Lodge.
Day 6:Trek to the village of Landruk in Modi Kola Valley.You have a beautiful day walking through the villages and rice terraces fields to enjoy your mini trek in the heart of Annapurna – superb view of Annapurna South (7219 meters) and Hinchuli (6441 m). –Landruck (1565m) 5h. Lodge.
Day 7: We continue to descent until modi khola and after crossing the suspend bridge of modi khola(river) we climb up to reach Jhinu Danda where we enjoy the short time in the hot springs – We continue with a bit steep climb up to Chomrong (2170m) 7h_ Lodge.
Day 8:Trek to Gandruk,we reach one of the most beautiful gurung villages – magnificent panoramic view of Annapurna range – (1940m) 5h.Lodge.
Day 9: We climb up all the time to the village of Tadapani settled in middle of Rhodhodendrons forest and after a small decent we continue to climb up to the Deurali,this place is completly hiden in the rodhodendron and pine forest.(3100m) 6h30 – Lodge.
Day 10: we climb to the Gurung Hill 3200m early in the morning for the sunrise and to have an extraordynary view of the Dhaulagiri and Annapurna ranges and then we go down to Gorepani(2800m),and we continue to the Magar village of Ulleri -(1900m) 5h Lodge.
Day 11: Descend down further more in the staircase that leads down to Nayapul and take a vehicle to reach Pokhara -(820m) 4h – Hotel
Day 12: flight to Kathmandu early in the morning and visit of medieval city of Bhaktapur – Hotel.
Day 13: Free morning in Kathmandu and transfer to the airport.