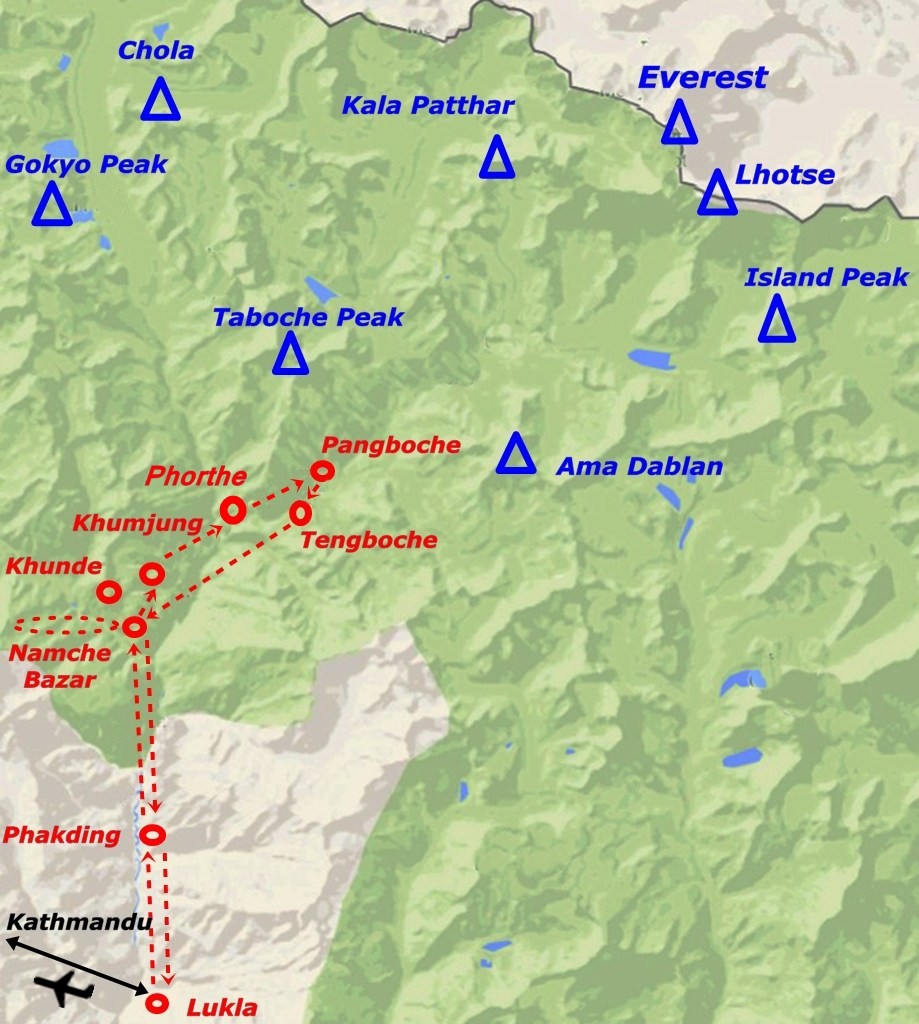 Balcony of Everest trek takes us on the foot of top of the world.We discover magnificent views of the highest Peaks,Everest,Lohste,Cho oyu,Ama-Dablum and many more snow caped mountains of the region.The trail passe through the villages of Khumbu region,Rhododendron and Pine forests.We can enjoy a lot the views of wonderful mountains in every moment of this trek.The presence of traditional Sherpa culture and ancient practice of Buddhism is very interesting.Visiting of the different monastery of the region is another important part of this trek,like famous Monastery of Thangboche and the festival of Mani Rimdo takes place in November which can be a unforgettable moment in your life.
Duration: 14 days
Maximum altitude : 4000m  Pangboche.
Possible extensions: Chitwan National Park – Kathmandu Valley
Best Season : –  March — April –May—– September — October — November –
Itinéraire par jours
Day 1: Welcome to Kathmandu airport by the agency and transfer to your hotel.
Day 2: exploration of some monuments of Kathmandu, Swayambudnath, Dubar Square, Pashupatinath, Boudhanath … – Hotel.
Day 3: Take a morning flight to Lukla(2800m) and trek to Phagding.4h(2600m)  – Lodge.
Day 4: Gradual ascent along the Dhud kosi river and steep climb takes us to Namche Bazar.6h(3500m) – Lodge.
Day 5:  Aclimatazition day in Namche and small excursion to the village of Thamo and descent to Namche – Lodge.
Day 6: We climb up to Khumjung above Namche Bajar,Superb views of Everest and then we reach the villages of Khunde and Khunjung 4h(3800m) – Lodge.
Day 7: Climb down little bit in the valley and then We follow the trail like in balcony until Kangjuma,then steeply climb to a pass Mong Dada,splendid view of wrold's highest peaks,After Phortse Thanga(3500M) the trail climb little bit up to the village of Phortse.5h(3800m) -Lodge.
Day 8: We reach the beautiful sherpa village of Pangboche by a trail with a wonderful view of Ama-dablum,Thamserku,Kusum-kangaru,and many more…we realy feel that we are in trail of balcony.A nice monastery to visit in the village,5h(4000m) _ Lodge.
Day 9: Our day will start with a descent and after crossing the Imja river and we climb up little bit to the most important monastery of the region,memorable views of Ama Dablan – Tengboche.3h (3900m) – Lodge.
Day 10: Going down through a forest of pine and rodhodendrons to the river Dhud Khosi and after a steep climb up we reach Namche Bazar-5h(3500m) Lodge.
Day 11: Back to Lukla – Lodge.
Day 12: Flight to Kathmandu early in the morning and free afternoon. Hotel.
Day 13: Visiting of the medieval newar town of Bhaktapur and pottery village of Thimi – Hotel.
Day 14: Free morning in Kathmandu and transfer to the airport.