version : French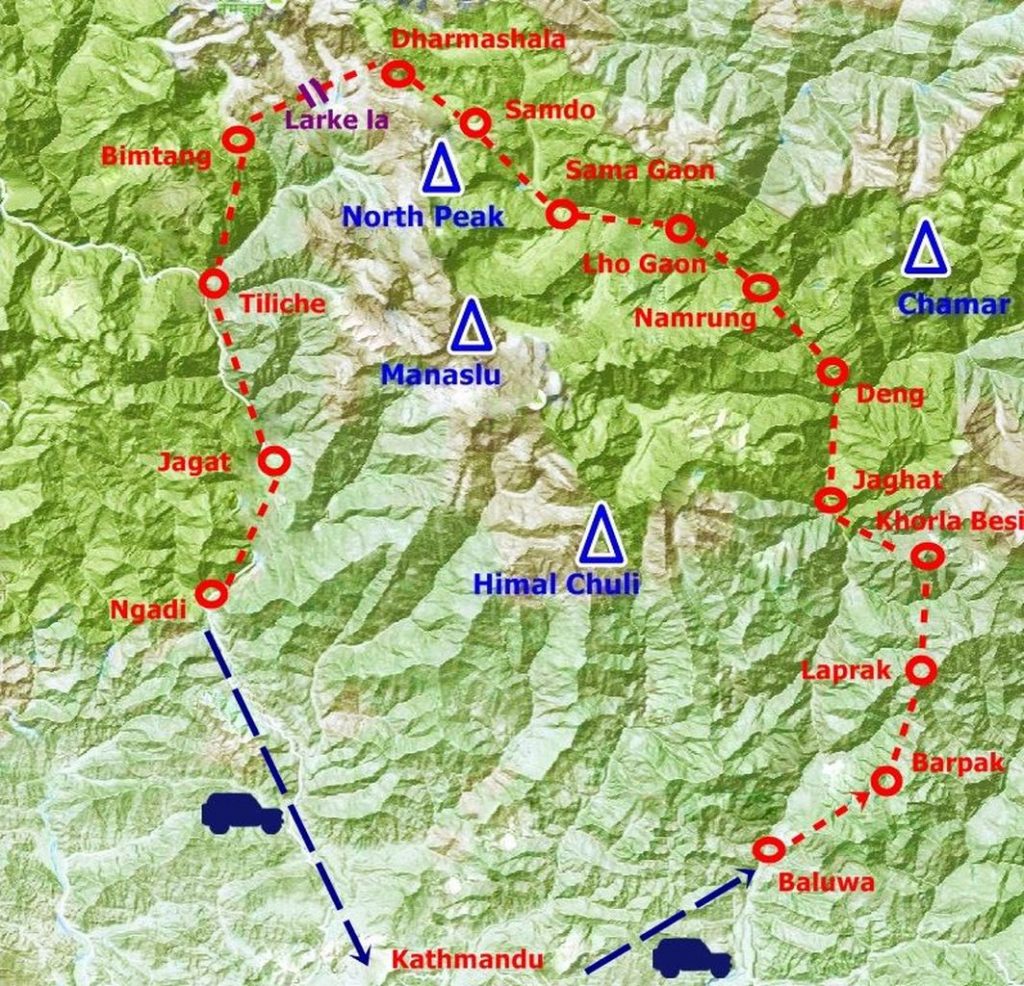 Manaslu,8th highest mountain of the world offers an incredible trek.This is a destination where there is less flow of tourists in compare to Annapurna and many places in this region remained untouched and wild.It is an exceptional destination which was affected by the earthquake in April 2015,now re-opened for the trekkers.There is mixed inhabitants settled in the valleys and on the north side of the region touched with the Tibetan border.People living in this area are much more influenced by Tibetan cultures and traditions.The highest point that the trekkers pass is 5160m renowned as Larke pass.
Maximum altitude: 5160 m at pass Larkya La
Duration : 18 days
Best season : — March — April ——– October — November —
Possible extensions : Chitwan National Park — Kathmandu Valley …
Itinéraire par jours
Day 1: Welcome to the Kathmandu airport by the agency and transfer to your hotel.
Day 2: Free day,explore Kathmandu,and trekking preparation-Kathmandu-Hotel.
Day 3: Departure from Kathmandu to Baluwa by Bus or private vehicle. Baluwa 8h of bus(1000m) – Lodge.
Day 4: Trek to Barpack,with a steep and long climb up to the village of Barpak situated on a ridge which gives a magnificent view of the valley below and an excellent view of Boudha Himal – 7h.(2000m) – Lodge.
Day 5: We reach a pass colled "Gupsi dada" after around three hour of climb up,an excellent panoramic view of the Ghanesh Himal,Sringi Himal,Boudha Himal and Langtang Himal in the Horizon.A steep down brings us in one of the nice Village of the region, Laprak.6h(2100m) – Lodge.
Day 6:Trek to Khorla Besi,at the starting we pass by a quite narrow trail in the terraced field and passing through a village of Khoral and than steep down to Khorla besi on the Budi Gandaki River.-7h(970m)- Lodge.
Day 7: Follow the Budi Gandaki.The trail joins entry point of the Manaslu Conservation area in Jagat-6h(1410m)Lodge.
Day 8:We leave tropical vegetation and start moving towards alpine visitation gradually and we arrive in the village of Deng(original Tibetan inhabitants) Deng – 6h30(1800m)- Lodge.
Day 9: We will pass by a beautiful village of Bihi that is surrounded by a Mani walls. The valley becomes larger and after a steep climb,we arrive in the village of Namrung – 7h(2660m) – Lodge.
Day 10: Climb to the village of Lho Gaon. Magnificent views of the Manaslu and Himal Chuli.Possible to visit the beautiful monastery at top of the village of Lho – 5h(3180m)- Lodge.
Day 11: After Shyala the trail become more beautiful,we continue in the balcony of the magnificent plateau of Sama Gaon – 4h(3530m) – Lodge.
Day 12: Acclimatization day at Sama Gaon -Explore around the Sama Goan and by good weather possible to do an excursion in the direction of Manaslu Base camp,magnificent view of the summits of Manaslu,Glaciers and a splendid lake on the foot of Manaslu.Sama Goan – Lodge.
Day 13: We continue our way to reach the most beautiful village of Samdo which is the village inhabited by the people of Tibetan origin -4h(3800m) – Lodge.
Day 14: We leave early for a short walk to Dharmasala,we feel that we are in a balcony surrounded by the mountains. Dharmashala – 4 h(4500m)- Lodge.
Day15: Early morning departure from Dharmasala to the path up to Larky Pass(5160m)This will be our unforgettable moment with the views several summits and massive glaciers,and the north face of Manaslu,Himlung Himal, Kang Guru, Annapurna II …. Arrive in Bimtang – 9h(3720m) – Lodge.
Day 16: Since the cooler area, the Trail cross the spruce forests, alpine meadows, and mountain culture to reach the Gurung village Tiliche, the village is famous for woodwork sculpture- 6h(1900m)- Lodge.
Day 17:We join the Annapurna round route after 1 hour of walking and we descend by Jeep to Beshisahar, 3:30 of drive by Jeep and then transfer by private vehicle to Katmandu – Hotel. , 5 hours of drive in afternoon.
Day 18: Free time and transfer to Kathmandu airport.