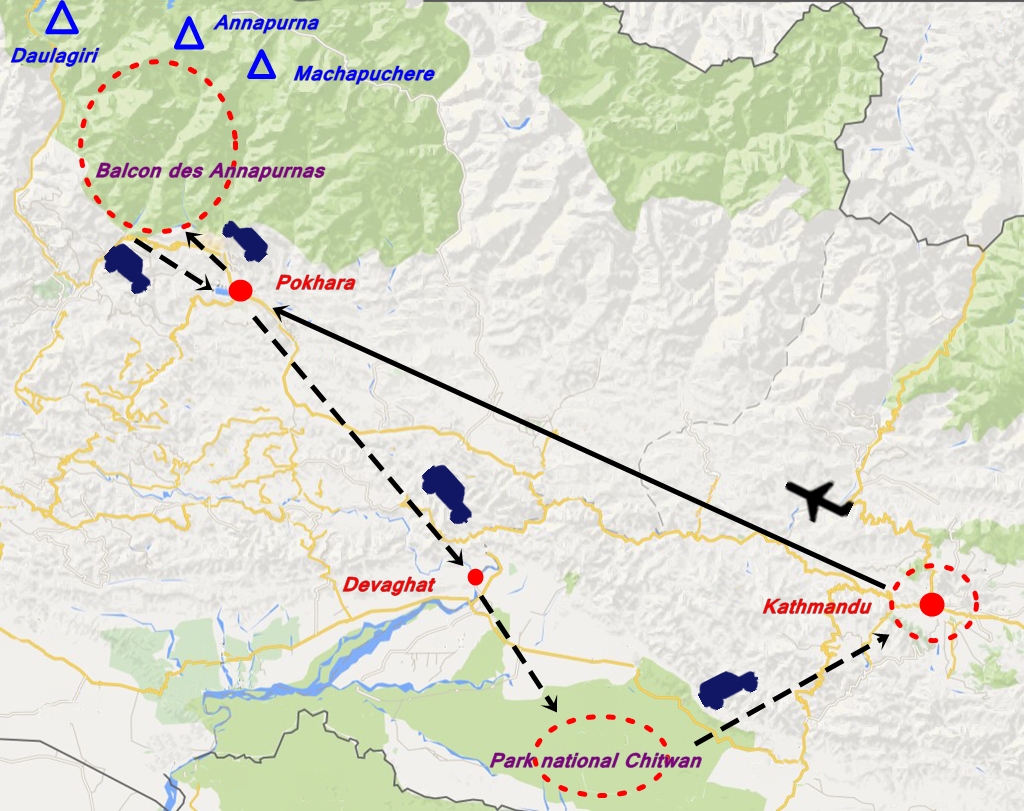 Annapurna range is a famous mountain range situated in western Nepal.The short trek in Annapurna is suitable for the people who want to gain their first trekking experience without much difficulty.The major attraction of this trekking are the scenic diversity route of Nepal.Crossing authentic Gurung villages,terraced fields,bathing in hot springs in Jhinu Danda,and unforgettable view of the Annapurna range.After the trek one can enjoy Terai Safari Tour in Chitwan National park which is renowned for the ancient indigenous people of Terai,the living place of rare one horned Asiatic Rhinos,Gharials and Bengal Tigers,visiting some of the historical world heritage sites in Kathmandu valley can make your tour complete.
Duration: 14 days
Maximum altitude : 3200 m Gurung Hill
Possible extensions: Kathmandu Valley …
Best Season : January – February-March –Avril – — October — November –– December
Itinéraire par jours
Day 1: Welcome to Kathmandu airport by the agency and transfer to your hotel.
Day 2: Exploration of some historical monuments in Kathmandu Pashupatinath, Boudhanath and afternoon flight to Pokhara – Hotel.
Day 3: Transfer by car to Kande and we begin our trek with an easy walk to Pothana, a pretty village with some small Tibetans shops. From this village you can enjoy a wonderful view of the most beautiful peaks of the region -(1900m) Lodge.
Day 4: A progresive climb to the village of Deurali then get down to the village of Landruk -5h(1565m) Lodge.
Day 5: We descent gradually path to the Modi river and we reach Jhinu Danda for a short-term relax in the hot springs before we climb steeply to Chomrong,beautiful view of Annapurna South,Hinchuli,Annapurna 3 and Machhapuchre,5h(2170m). Lodge.
Day 6: Trek to the beautiful Gurung village of Gandruk,popular for its small stone paved roofs and tiny house,Gurung museum and of course splendid panorama of Annapurna range -5h(1900m) Lodge.
Day 7: We climb up all the time to the village of Tadapani settled in middle of rhodhodendrons forest and after a small decent we continue to climb up to the Deurali,this place is completly hiden in the rodhodendron and pine forest.6h30(3100m) – Lodge.
Day 8: we climb to the Gurung Hill early in the morning for the sunrise and to have an extraordynary view of the Dhaulagiri and Annapurna ranges and then we go down to Gorepani(2800m),and we continue to the Magar village of Ulleri -5h(1900m) Lodge.
Day 9 : Descend down further more in the staircase that leads down to Nayapul and take a vehicle to reach Pokhara -4h(900m) Hotel.
Day 10: Early morning,we leave for the Terai. On the way, stop at Devaghat, spiritual city of many temples situated at the confluence of three major holy rivers,it is a top pilgrimage sites in Nepal.Short walk in the area,continue to the Chitwan National Park and animal reserve in the Terai. A haven of animal life,houses over 400 species
of birds and 40 species of mammals including Bengal tigers and the one horned Asiatic Rhinos. Chitwan – Lodge.
Day 11: We start to discover the biodiversity richness of Chitwan, takking three option,elephant safari,on foot and by boat.You are led into the most inaccessible places where you see rhinos, crocodiles, deer, maybe even jugglers bear and a multitude species of birds.Bathing elephants at 15h in the river is a real treat. The activities begin early in the morning – Lodge.
Day 12: Departure early in the morning for one last walk through green valley, sumptuous and wild landscapes to encounter wild boar, deer, rhinos and if lucky, maybe encounter with a tiger. Departure to Kathmandu late afternoon free – Hotel.
Day 13: Last day,Kathmandu visit: Swyambudnath, Dubar Square and Bhaktapur the medieval city Newar- Hotel.
Day 14: Free morning in Kathmandu and transfer to the airport.