Tiji Festival of Lo Manthang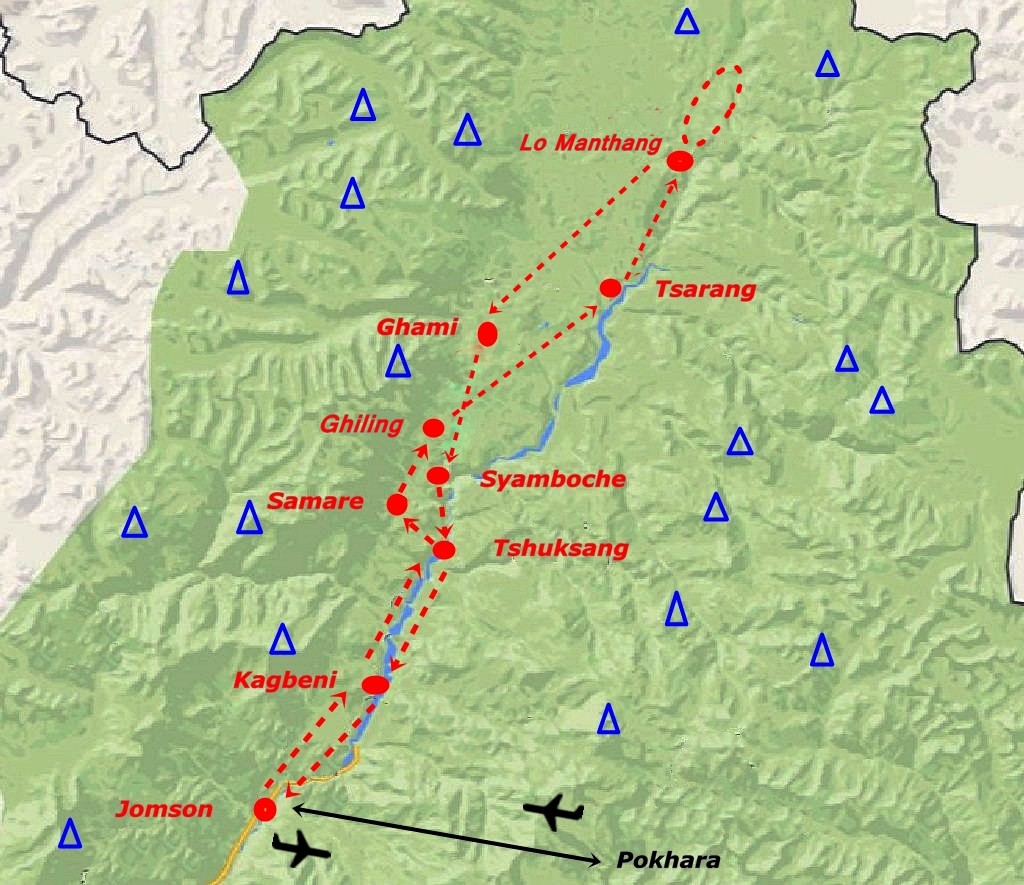 The kingdom of Mustang opened to foreigners in 1992. It is one of the very few places of the world where we can have an experience of ancient and authentic Buddhist culture, and off course nobody can stay without appreciation of its fantastic landscapes.It is celebrated in the month of April/May.Tiji festival is a time of religious pilgrimage for many local people as well as a wonderful time of grand celebration. The celebration of Tiji festival in the Mustangi's capital of Lo-Manthang have various reasons,one of the main reason is the victory of goodness over evil and it also created unity among people of Mustang.
Duration 18 days
Maximum altitude : 4300m
Possible extensions: Chitwan national park – the Newar towns of Bandipur – Kathmandu Valley …
Best Saeson :
Itinéraire par jours
Day 1: Welcome at the airport of Kathmandu by the Agency and transfer to your hotel.
Day 2: Departure to Pokhara by bus at 7: 00 in the morning, 6 hours on bus (Possibility of Flight on request). Arrive in pokhara around 3: 00 in the afternoon, free, Hotel.
Day 3: Departure for Jomsom with an unforgettable flight over deep gorges between two highest peaks of this region, Annapurna (8091 m) and Dhaulagiri(8167m) – Trek begins from Jomsom in the Kaligandaki valley to reach Kagbeni (2800 m) which is also the gate of entering the Upper Mustang, beautiful village of Tibetan architecture – 3 h 30 walk – Lodge.
Day 4: Entry to the Mustang and trek to Tsusang, we climb up to the Kaligandaki through arid landscapes up to Tangbe, and then we get the village of Tsusang (3000 m)-4 h. Lodge.
Day 5: Leave Kaligandaki valley before getting the village of Chele and climb through a deep canyon up to the Dajori pass – at 3700 m, great view of massif Damodar Himal and Annapurna, and after the pass down slightly to the village of Samare (3650 m) – 4h – Lodge.
Day 6: After crossing a pass at 3800 m (panoramas of the massif Damoder and Annapurna. Descend down in a narrow gorge we will find ourselves in a hidden cave where we can visit a massive Chhorten inside the cave, and we continue climbing up to Syangbochen and then finally descend to the village of Gheling.3500m – 6h -Lodge.
Day 7: We leave from the pastures of Ghiling to climb to the pass of Nya-La at 4000 m, – superb panorama of the mountains and down to the pretty village of Ghami and and we continue till the village of Dhackmar (Red Cliff), 3800 m – 5 h 30 walk – Lodge .
Day 8: We climb to the Dhakmar Pass-, 4000m, panoramic view from the pass allows us to discover a large part of the Mustang, then the gentle descend down through the mountain pastureland to reach the monastery of LO Gekar,the oldest monastery of Nyingmapa of Mustang which dates back to the 8th century, Then, We continue to a pass across the meadows, a view point from the pass(4300m) opens the Valley of Lo Manthang – 7h -Lodge.
Day 9: Tiji Festival Day 1 – Lodge
Day 10: Tiji Festival Day 2, or a walking tour in the Valley of Garphu and Chhoser (possibility of a tour by jeep or horse optionally payable locally) to Lo Manthang to walk back through the villages of Nyiphu and Nenyul – 6h of walk and in afternoon explore Lo-manthang old Citadel, visit of the monasteries which shows the wealth of this medieval city,Lo manthang – Lodge
Day 11: Lo Manthang to Yara,Walking to Yara on dry ridges, then a steep down to the oldest village of Dhi 3400 m, and then after lunch we cross Kali Gandaki and walk through a spectacular gorge,3600 m – 5 h 30 walk – Lodge.
Day 12: Excursions to the surroundings with the superb monastery of Luri Gompa(4000m) visit, a monastery digs into the fireplace of fairies ,5h30 of walk back , views of Dhaulagiri and Nilgiri from the village of Ghara, Yara. –Lodge.
Day 13: Yara to Charang,walking through the Kali Gandaki we reach second largest village of mustang,4h of walk,3585m.Lodge.
Day 14: Charang to Jomsom drive by Jeep,5h of drive.Jomsom (2700 m) Lodge.
Day 15: Flight to Pokhara, arrive at hotel and free day in Pokhara, – Hotel
Day 16: Pokhara-Kathmandu by bus (possibility to fly on request) free day – Hotel.
Day 17: Cultural visit of Bhaktapur and Thimi,medieval cities.
Day 18: Transfer to International Airport.