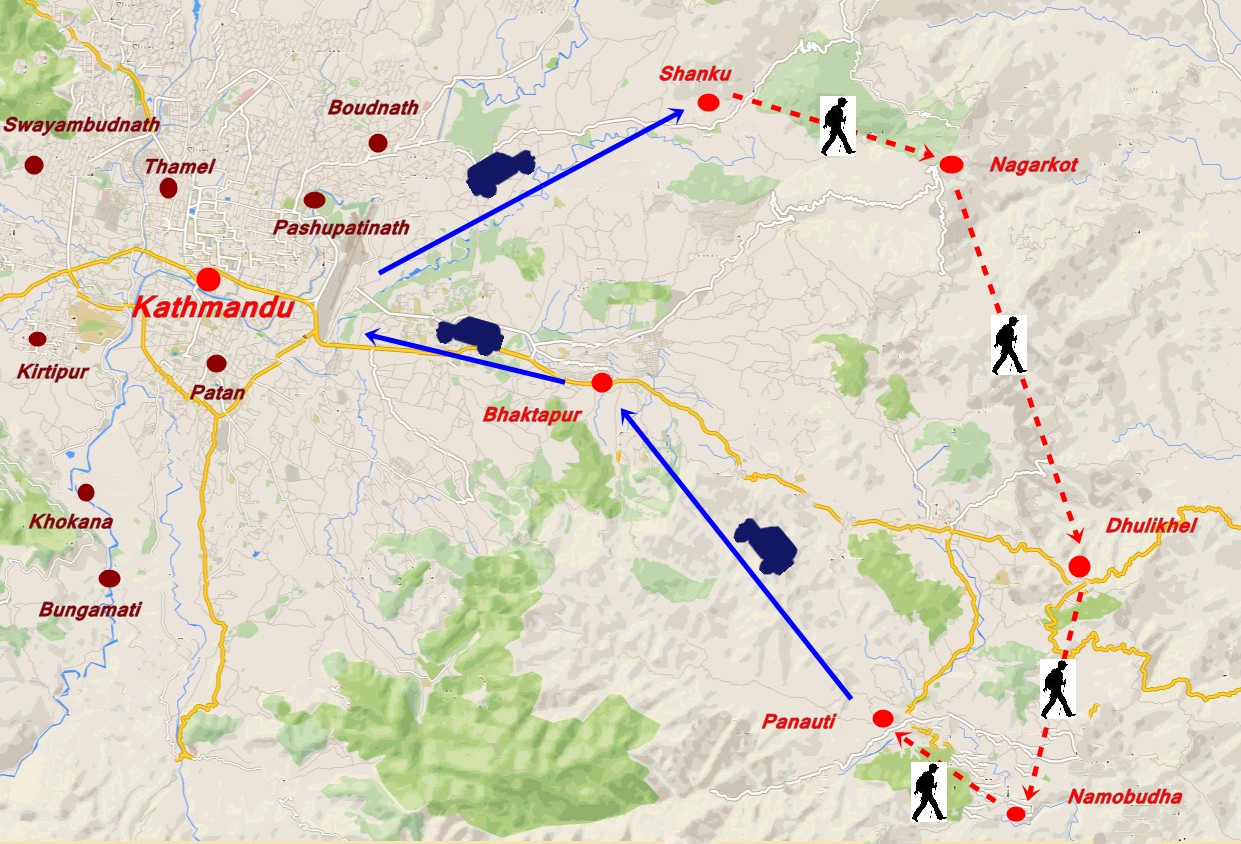 After visiting some of cultural heritage sights of Kathmandu, we enjoy the Kathmandu valley trek where we discover charming Newar villages with its own style and architectures, visiting of dedicated pilgrims in the temples, and we passed through unforgettable landscapes –rice terrace fields, and splendid view of the Himalayan in the north perspective.
Duration: 9 days
maximum altitude : 2100 m in Nagarkot
Possible extensions: park Chitwan – Pokhara …
Best season : January – February – March – April — May —- September – October – November– December
Itinéraire par jours
Day 1: Welcome to Kathmandu airport by the agency and transfer to your hotel.
Day 2: visit some of heritage sites in Kathmandu, classified by UNESCO: Swyambudnath, Dubar Square, Pashupatinath, Boudhanath … – Hotel.
Day 3: Drive to Sarkhu by vehicle, sankhu is a small ancient city of Newar,and an important place of pilgrimage.The trek to Nagarkot will start from here (4 hours of walk),one of the great views of the Himalayas,and we can see the sunset over the Himalayas by good weather, panoramic view – Lodge.
Day 4: we pass through the villages of ethnic Chetriya and rice terraces field,then a forest of pine and rhododendron. (6 hours of walking) Dhulikhel – Lodge.
Day 5: Departure from Dhulikhel on foot (4 hours of walk) to get the monastery of Namobudha –an excellent panoramic view of the Himalayan range – and visit of very active monastery of namobudha, more than 200 monks live in this monastery, it is possible to attend a Buddhist ceremony in the monastery at 3 pm. – Accommodation at the monastery.
Day 6: Departure from Namobudha and trek to Panauti (3 hours of walk),visit of this small charming city relatively well preserved which is quite interesting to explore with its many temples. Back to Bhaktapur by vehicle. – Hotel.
Day 7: Visit of Bhaktapur,one of the most beautiful city of Nepal, it is also called living museum which is Founded in the 12th century,Bhaktapur is famous for its wood architecture and artistic brick houses, many magnificent temples, pedestrian streets with many workshops (wood carvers, potters, jewelers, labor copper and bronze …) –Hotel.
Day 8: Visit of Patan Durbar Square,the ancient capital city and the capital city of art.Then we visit typical Newar village of Bungamati which is famous for its woodcarvings and metals workshops and we continue to walk through rice terrace fields to join the village of Khokana, a typical village of newars seems to be out of the Middle Ages.There are women sitting outside spinning, men crushing seeds, and other daily activities. The village is famous for its unusual mustard-oil harvesting process in which a heavy wooden beam is used to crush the mustard seeds in order to extract the oil.. Back to Kathmandu – Hotel.
Day 9: Free morning in Kathmandu and transfer to airport.