Complete Annapurna circuit trek.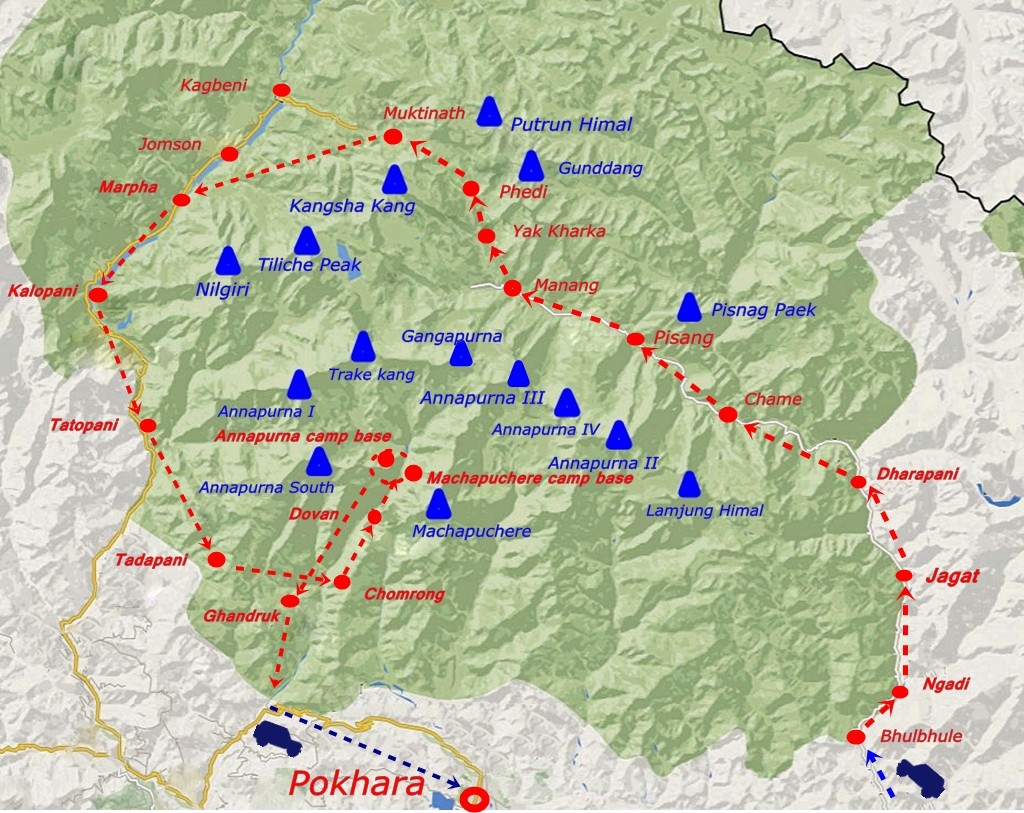 Annapurna trek has been always regarded as the most beautiful trek in Nepal.It presents you variety of trekking experience where you encountered with people and their ethnic groups living in lowland to highland villages of Lamjung,Manang and Myagdi, Mustang.There are many traditional villages along the route which are far away from the city which makes every moment of your trek unforgettable.The highest point of this trek is Thorong-la pass situated at the altitude of 5416m above sea level and crossing Thorong-la means a unique experience of your lifetime.
Duration: 25 days
Maximum altitude 5416 m Thorong Pass Pass
Possible extensions: Chitwan national park – The Newar villages of Bandipur – Kathamandu Valley…
Best Season  : – March — April  — May ——- September — October  –– November –
Itinéraire par jours
Day 1: Welcome to Kathmandu airport by the agency and transfer to your hotel.
Day 2: Explore some of the historical monuments in Kathmandu – Hotel.
Day 3: Transfer by vehicle to Jagat-Lamjung (1300m) – Lodge.
Day 4: Our day begins after breakfast easy walk for one hour then the climb becomes steeper for 300 meters to reach the village of Tal,located in a ancient lake dominated by a large waterfall. After lunch we arrive to the Dharapani.6h (1900m)- Lodge.
Day 5:We reach Temang after a steep climb and continue through a beautiful forest of pines and oaks before joining Chame, remarkable view of the Annapurna and Manaslu ahead and behind us.6h (2700m) – Lodge.
Day 6: The landscape become more arid before arriving Pissang. Overnight in beautiful village of Pissang.5h (3200m) – Lodge.
Day 7:Take the upper route to get Manang which offers us a wonderful views of the Annapurna range and have great moment passing through the two most beautiful villages of Manang, Gya-ru and Ngawal – Manang.7h (3500m)- Lodge.
Day 8:It is the day of acclimatization. We climb little bit to the view point across the Manang village to have a wonderful view of Gangapurna glacier. Afternoon visit of Braga monastery – Manang -Lodge.
Day 9: Departure from Manang to the Tilicho base camp (4150m) through the Khangsar village.7h, Lodge.
Day 10: Early departure from the Tilicho base camp to Tilicho Lake (4950), one of the highest Lake in the world, return back to base camp,morning trip, 4 h 30 of walk and then trek continues until Shreekharka(3950m) 2 h. Lodge
Day 11:Departure from Shreekharka for Yak Kharka(4040m) 4:30 walk. Lodge.
Day 12:Ascent progressively, sometimes steeply climb up "at the foot of the mountain" Throng Phedi(4550m) / High Camp(4800m) 4 to 6h- Lodge.
Day 13: Departure early in the morning with the headlight to the Thorong Pass(5416m).The climbing efforts will reward you with a magnificent panorama. Descent to Muktinath pilgrimage place for Hindus and Buddhists.9h (3800M) – Lodge.
Day 14: Descent through arid landscape that remind you the reminiscent of Tibet situated close to Jomsom and continue until beautiful village of Marpha.6h30 (2670m) – Lodge.
Day 15:Marpha to Tatopani by jeep, the old trail has lost all interest since the construction of road, the transfer may take about 4 hours by jeep, we go through the deepest gorge of the world trapped between the Annapurna I(8091m) and the Dhaulagiri(8167m). A natural hot spring is located near the village of Tatopani, where we can enjoy the bathing in the evening .1200m.
Day 16: We continue up to Ghorepani which called balcony balcony of Annapurna.8h (2800m) –Lodge.
Day 17:Weak up early in the morning and climb up to Poon Hill to have a wonderful view of sunrise at Poon Hill (3200m)and to enjoy the beautiful panorama of Annapurna and Dhaulagiri ranges and then walk through rhododendron forest and a beautiful tropical forest to Tadapani.5h (2600m) – Lodge.
Day 18: Flow the trail descend through terraced fields and after crossing the river Kimrong Khola we climb up until Chomrong,from where we can see very closely Annapurna south,Hiuchuli,Annapurna-3 and Fistail,then we continue till Sinuwa, -6h30 (2370m)Lodge.
Day 19: We enter in a narrow valley which climbs up to ABC, many nice waterfalls along the way to Deurali -6h (3305m) Lodge.
Day 20: We start to see the glaciers and snow caps mountain closely, arrive in MBC and the view is spectacular,after a short climb we reach the mythical "Sanctuary"Annapurna south Base Camp (4130m). You are surrounded by giants Himalayas. Annapurna-1,10th highest mountain of the world.Base Camp,2h30 (4130m) – Lodge
Day 21: Return back down by the same route to the village of Bamboo,6h (2360m) – Lodge.
Day 22: Trek to Jhinu,where we can enjoy the bathing in afternoon .1700m. – ,5h (1900m)-Lodge.
Day 23: Beautiful descent through rice terraces field until Birethati and we joins Nayapul to take the vehicle to Pokhara – relax end of the trek and free afternoon – Hotel Pokhara-5h and 1h30 of transport.
Day 24: flight to Kathmandu or take the tourist bus early in the morning.Hotel.
Day 25: Free morning in Kathmandu and transfer to the airport.