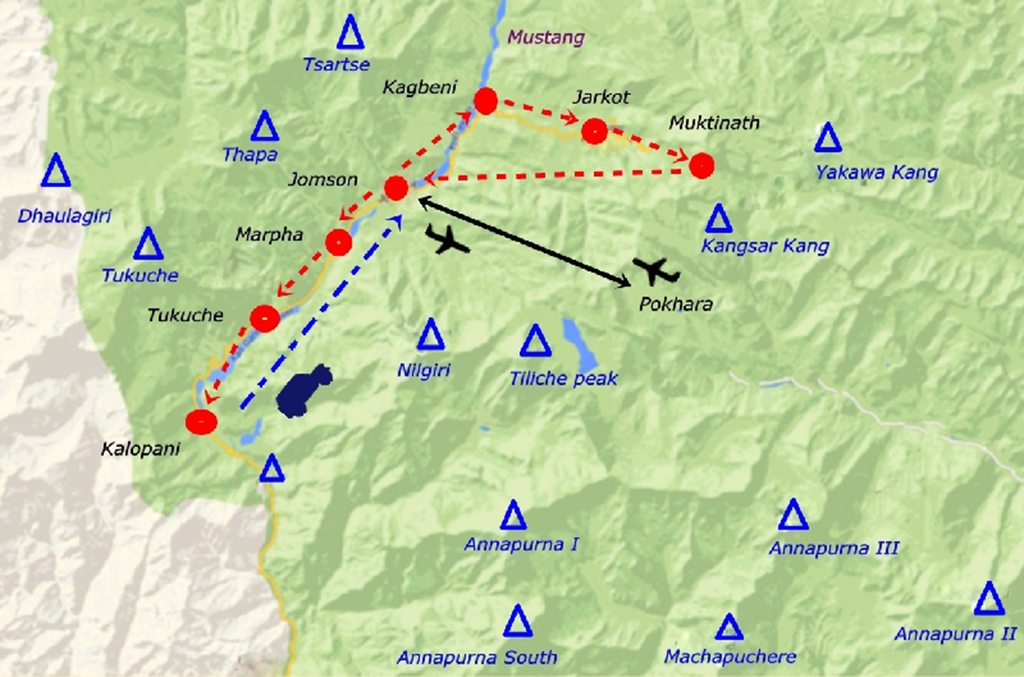 Kali Gandaki valley trek is popular for spectacular Himalayas views,we can see for sure two summits above 8000m,Dhaulagiri,8167m and Annapurna one 8091m.You will enjoy the its unique dry landscapes with the snow capped mountains in the perspective.Inhabitants of Thakali people in this valley renowned for their good hospitality.Crossing the authentic villages like Marpha,Kagbeni,Tukuche,Larjing and Jharkot. One of the famous pilgrimage place of Muktinath which is considered a place of purgatory for Hindus and Buddhists.
Maximum Altitude: 3800 m to Muktinath
Duration: 14 days
Possible extensions : Chittwan national Parc – Kathmandu Valley …
Best Season : – – March — April — May – – – — September — October — November –
Itinéraire par jours
Day 1: Welcome to Kathmandu airport by the agency and transfer to your hotel.
Day 2: Visiting of Kathmandu Swyambudnath, Dubar Square, Pashupatinath, Boudhanath … – Hotel.
Day 3: Departure for Pokhara – Hotel.
Day 4: Hiking to Sanragkot or Tibetan Peace Pagoda – Hotel.
Day 5: Flight to Jomsom(2700m) early in the morning which gives you an experience of unforgettable flight over Annapurna and then our trek starts from Jomsom and descent to the charming village of Marpha,the capital of apple of Nepal. Possibility to attend a ceremony at the monastery(2670m) – Lodge.
Day 6: Trek to Tukuche,the typical Thakali village of the valley,splandid view of the Dhaulagiri,Nilgiri and Tukuche peak,and after the lunch we continue to the village of Larjung situated on the foot of 7th highest summit (Dhaulagiri 8167m) of the world,Larjung. 4h (2560m)– Lodge.
Day 7: Our route continues through green pine forest to Kalopani from where we see the 10th highest peak of the world,Annapurna-1,(8091m) and return to Jomsom in afternoon by vehicle – Lodge.
Day 8: Trek to Kagbeni along the bank of Kaligandaki river,one of the important monastery to visit and an ancient castle in ruin, Kagbeni. 4h (2800m)- Lodge.
Day 9: Trek to Jarkhot,we start by climbing and landscapes of the day is completely different.An excellent view of Nillgiri and Dhaulagiri,you will feel yourself that you are in different planet. Jharkot. 4h (3550m)-Lodge.
Day 10: Visiting of Muktinath,it takes around 1h to get muktinath,the famous place of pilgrimage for Hindus and Buddhists,a magnificent view of the Himalayas and large valley with arid and unique landscapes–Muktinath. 1h30 (3800m) Lodge.
Day 11: Return to Jomson. 5h (2700m) Lodge.
Day 12: Flight to Pokhara in the early morning and departure for Kathmandu at the same day.Kathmandu – Hotel.
Day 13: Visiting of the ancient city Bhaktapur,medieval city of Newar -Hotel.
Day 14: Free morning in Kathmandu and transfer to the airport.